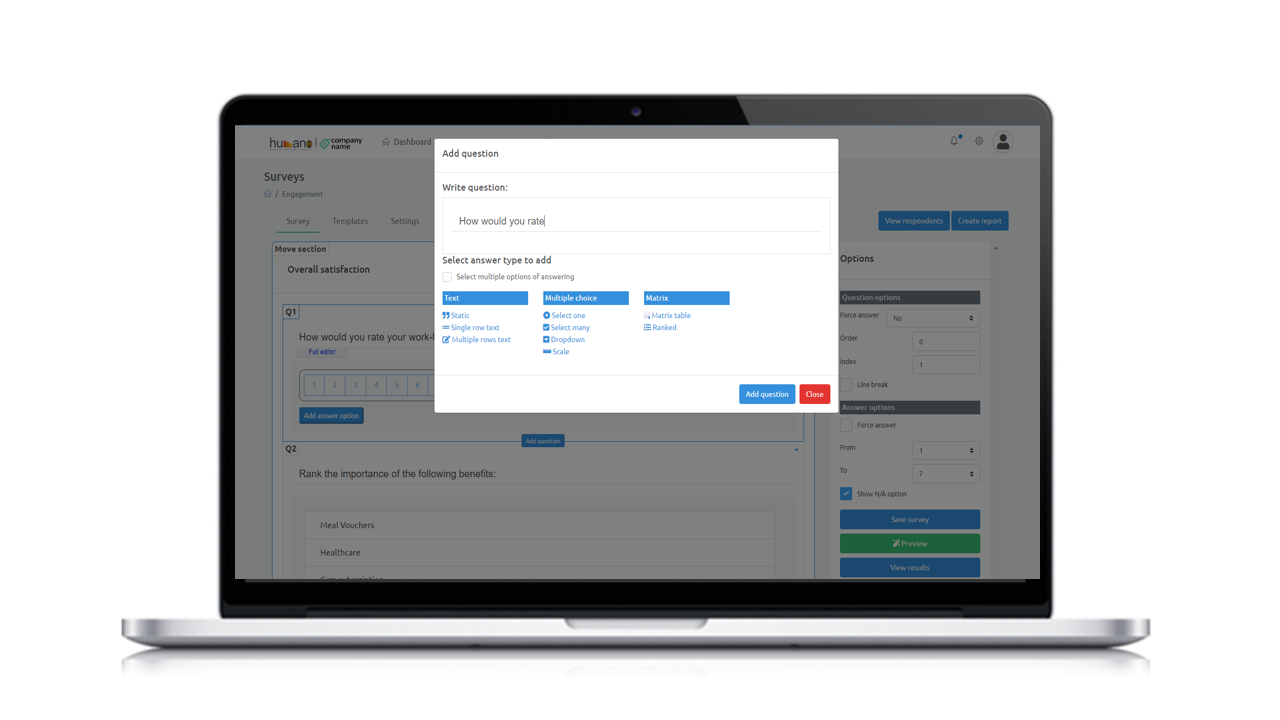 Easy to use Builder.
Experience creating surveys in an easy manner. Our survey builder is highly intuitive with straightforward functions. You can create any type of survey and get the feedback that you need. Extract insights and find the right solution for your company issues.
Adaptive Questionnaire.
Create a survey which adapts to the attributes of your respondents. If a respondent is from a certain category you will be able to ask an additional set of questions. The survey can adapt also depending of the answers given.
Avoid respondent fatigue by creating a smart adaptive questionnaire. Use our advanced conditional logic to create the right experience for your respondents.
You have all the tools to create a reliable, easy to complete survey capable to extract all the info you need.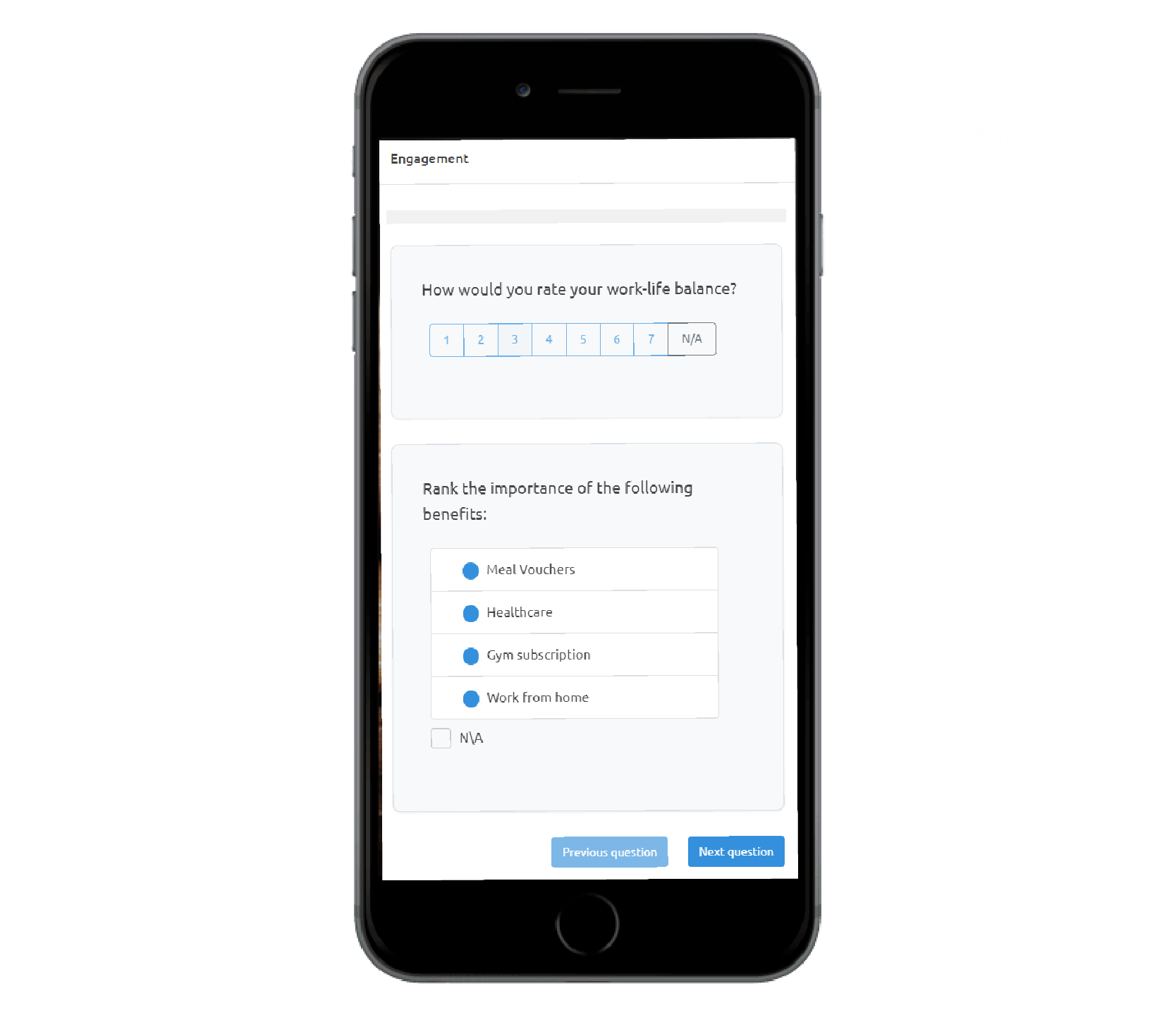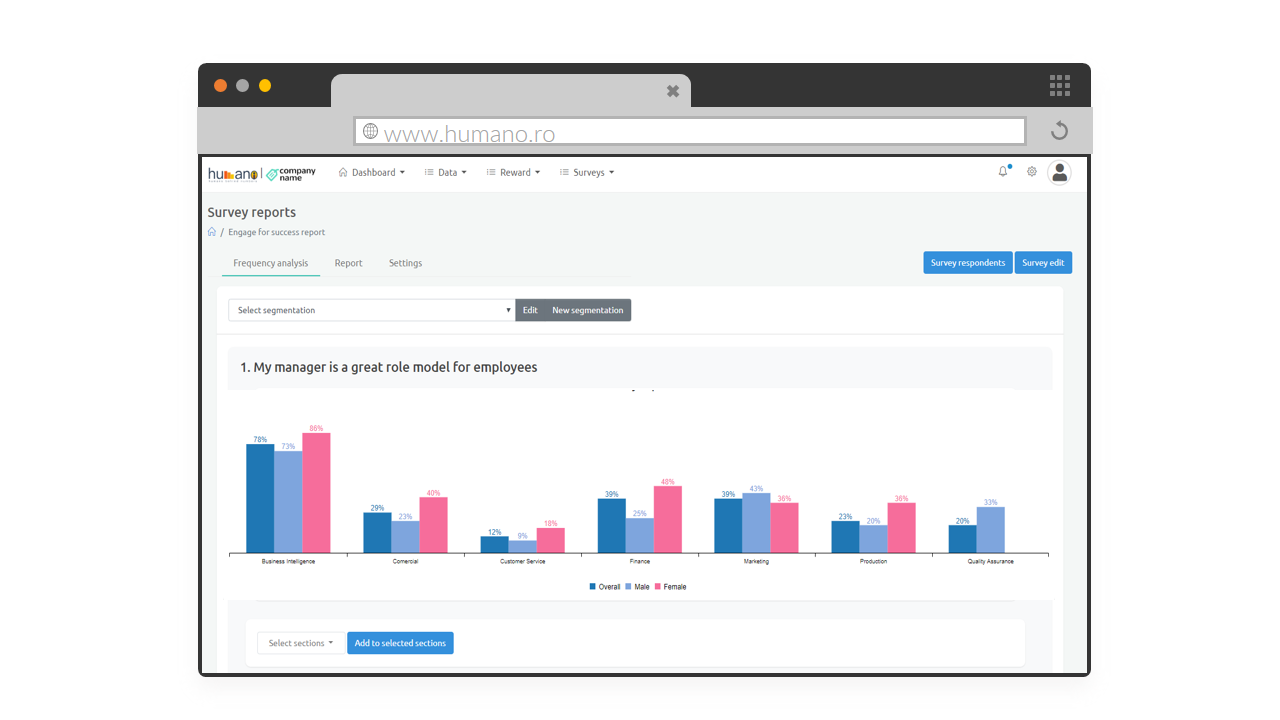 Powerful Reporting
Make the most out of your survey data. With our powerful analytics functions you will be able to create insightful reports. Create data segmentation to drill down and find root causes. Filter and split data sets to catch nuances and specifics of your different respondent categories. Save reports in PDF and share them within your organization.
Employee insights
The most powerful platform that links employee data and meta data to your survey responses in a matter of seconds. Don't waste time on additional data processing. We provide state of the art data segmentation and filtering.
Employee feedback
Ask your employees for feedback during onboarding, exit process, or other occasions. Have an ongoing or 360 feedback project or maybe just a pulse survey. Give voice to your employees and you will succed.
Survey Warehouse
Maybe you practice face to face interviews with different feedback occasions. Don't rely on your memory just centralize all the info via our survey module and link it to employees (or not). Have a powerful feedback bank.
Anonymity
Maintain the anonymity of your respondents without compromising in the reporting area. We offer the possibility to have powerful segmentation while maintaining the anonymity of your respondents.
Create your powerful surveys by asking the right people the right questions
Types of questions supported:
Choose one answer
Multiple answer
Open questions
Rank options
Matrix display
Dropdown list
Scale
Other and/or N/A  response option
Manage the experience of your respondents by avoiding to request info that you already have.
Ask the right people via Conditional logic:
control the visibility of questions depending on respondent answer
control the visibility of questions depending on respondent meta data
create required question – for everybody or by different criteria
Easy Setup and Administration
Creating powerful adaptive survey has never been so easy. Here are some of the options that will allow you:
Anonymous option – answers will be displayed in an anonymous method, you will not be able to correlate answers to respondent – automatic disclaimer added
Autosave while respondents give answers
Control the ability of the respondent to go back to previous answered questions
Control the ability of the respondent to make changes once the survey is submitted
Control the ability of the respondent to review answers
Complete/fill survey on behalf
White label – custom link
Logo branding
Email notifications
Communication is key when it comes to having high percentages of completion for your surveys. We offer you the possibility to customize your messages sent to your respondents.
Survey invitations
Reminders (all or only to the respondents who didn't submitted their surveys)
Create and save templates
Powerful Reporting
Analyze the data like a true Data Scientist
Here are some of the features that will give you the change to have a deeper understating of your data:
see the evolution of the answers in real time
create automatic reports by different demographics
filter data by demographics
advanced filtering and segmentation
cross tabs (to be launched)
grouping (to be launched) – group questions into sections and create overall scores
add comments in reports
save to PDF